Recovery Treatment Court Judges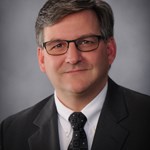 Hon. Andre R. Borrello
Judge Borrello was elected to the 10th Circuit Court in 2016.  Prior to taking the bench, he served as City Attorney for the City of Saginaw, Saginaw County Civil Counsel and also held administrative positions in municipal government.  He graduated from the University of Michigan and Seattle University School of Law.  A lifelong Saginaw County resident, Judge Borrello is proud to serve his community in the drug treatment court program and has been inspired by the participants, their courage and success in the program.  He believes that without the collaborative effort of our dedicated team members, our program would not be able to successfully help those in need.
Hon. Julie A. Gafkay
Hon. Julie A. Gafkay was appointed to the Saginaw County Circuit Court bench by Governor Gretchen Whitmer on April 26, 2023, filling the vacancy created by the retirement of the Hon. Janet M. Boes.
Prior to her appointment, Gafkay owned a law firm in Saginaw County for 20 years specializing in civil rights, employment discrimination, sexual harassment, retaliation, Whistleblowers' Protection Act, and personal injury. She was the union attorney for Flint School Administrators. She also worked as an adjunct professor at Saginaw Valley State University and an instructor in employment law at the National Business Institute.
She served as president of the Saginaw County Bar Association and Women Lawyers Association of Michigan. She has also served on numerous other boards and committees throughout Michigan and Saginaw County. She has authored several legal articles in publications including the Michigan Bar Journal.
Gafkay was recognized by Michigan Lawyers Weekly as a Michigan Women in the Law honoree, she has been honored by Saginaw County with its Community Service Award and recognized her for her pro bono services. In 2022, Gafkay received the Margaret Louise Rorke Leadership Award from Women Lawyers of Michigan – Great Lakes Bay Region. Most notably, in 2019, Gafkay was honored by the State Bar of Michigan with the Champion of Justice award.
Gafkay was born and raised in Macomb County. In 1997, Gafkay chose Saginaw County as her home, where she and her husband raised their two children. She attained her bachelor's degree from James Madison College at Michigan State University and Juris Doctorate from Whittier Law School.